CLASSROOMS
Knowledge is a power and ideas Rules the World. A classroom is a learning space, a room in which classes are held. Enriched classrooms are present where student not only learn but interact with the faculties in healthy atmosphere. With the help of working models learning becomes interesting and easy. Here student can share their views ideas.
LIBRARY WITH DIGITAL SUPPORT
A library is a collection of sources of information and similar resources, made accessible to a defined community for reference or borrowing.The Library is well equipped & managed by experienced staff. It houses 10000 selected books & 50 periodicals, National & International. The institute is always increasing its inventory of books. Numbers of technical VCD's, DVD's and video cassettes are available for the students' reference. In future our library is going to take the membership of other libraries of reputed organization like ARAI, British Library etc. The library subscribes to well-known Engineering Journals, Periodicals, Magazines & Newspapers.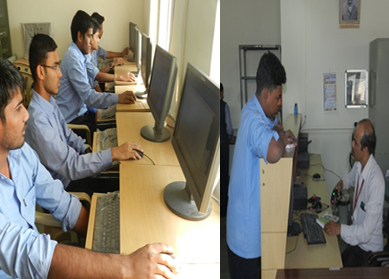 New barcode technology helps to maintain the inventory of books. Library is with the digital support where student can access the e-books and many websites which will help them to update them with latest technologies.

READING HALL
The one who reads that person in leads.Reading room present in campus which is open during college hours. Reading hobbit develops the knowledge based civilians which inculcates the value system in society. Reading rooms provide the students the healthy environment for studies. Reading helps these budding engineers to update their knowledge.The facility is available to all the students and the hall remains open from 8.00 a.m. to 4.00 p.m., every day, except Holiday
ADMINISTRATIVE SECTION
Well organized administrative section, account section and student section helps in smooth functioning of institute. It maintains all important data of institute. It helps staff as well as students.
COLLEGE CANTEEN
An innovative thought comes in healthy mind and healthy mind resides in healthy body. Big canteen present in the college campus which provides the Healthy, Nutritious and Delicious food to the students. All varieties of foods are available in college cafeteria.
CO-OPERATIVE STORE
Student co-operative store available in cam pus which provides the stationary material to the students
SPORTS GROUND
The campus in encircled with the big sports ground where students can play the different games. Hollyball,basketball ground is also present. Our students participate in different state level as well as national level sports and make us pride. In our campus versatile students are developed.
PARKING AREA
Campus is enriched with the big parking area. Where students can park their vehicles .Security facility is present in campus 24 by 7.College campus is so huge and pleasant. It provides great atmosphere where students can make the friendship bonds and it will make learning phase easy and most memorable.