AISSMS Polytechnic Ideology:
Focusing Overall Development and Student Discipline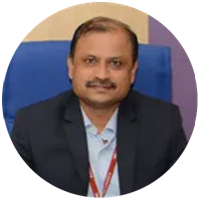 Prof. S. K. Giram
Principal, AISSMS Polytechnic
"We instil a sense of social obligation, discipline and value-added education among our students which makes them not only industry-ready but also helps them evolve as better human beings."
For the past 25 years, AISSMS Polytechnic College has been stirring holistic development in its students and providing quality education and training. The college has evolved as the centre for building efficient technocrats ready to take on the industrial world.
Journey of the Institution
The journey of the institution has been magnificent under the able guidance of the AISSM Society and the experienced faculty of the institution. Commenced with strength of around 300 students in 1994 gradually increasing to 600 students and has been evolving ever since.
Owing to the increasing strength of technically soundstudents passing each year the college introduced the course in two shifts to enable students gain access to quality education without the constraint of time. Today, AISSMS Polytechnic is one of the best diploma engineering colleges in Pune, Maharashtra as well as PAN India due to consistent qualitative performance.
Upholding Holistic Development of the Students
Since the inception of the college, holistic development of the students has always been the centre of AISSMS Polytechnic's fundamental foundation,the college offers students with abundant opportunities for growth and skill development. Our efficientTeaching-learning process undoubtedly plays avery vital role in this.
We believe in providing the students with education far beyond the curriculum offered by the university. Thus, to help the student stay at par with the ever-increasing market competition, we organize numerous seminars, practical workshops and industry visits. The extracurricular activities help polish the students' skills and give them an edge over the other.
Roots of Heritage and Legacy
Being a part of a premier heritage society we at AISSMS Polytechnic strongly adhere to our values and virtues and this is reflected through the noteworthy work of our excellent staff.
Being associated with the AISSM Society and the legacy ofChhatrapatiShahuMaharaj has given us a strong set of values and has helped us craft a Vision and Mission that holds the heritage of the institution upright.
Staying connected to our cultural values we at AISSMS Polytechnic, strive to develop a sense of social obligation and discipline among our students to make thembetter human beings rather just educated individuals.
Our vision has always been to achieve excellence in quality technical education by imparting knowledge, skills and abilities to build a better technocrat. We strive to sculpt our students' skills through various curricular and extra-curricular activities that will make them all-rounder.
The mission of AISSMS Polytechnicis to empower the students by inculcating various technical and soft skills through continuous imparting of quality educationthrough our teaching-learning process and a manifold of industry-institute interactions.
The AISSMS Polytechnic today holds a respectful position in the industry due to its great heritage and consistent efforts for providing students with quality education. These efforts have been appreciated by the National Board of accreditation (NBA), New Delhiin the form of accreditation of three programmes namely Computer Engineering, Civil Engineering and Mechanical Engineering.